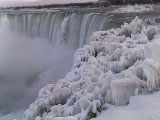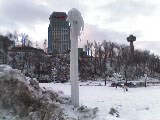 If you've never been to Niagara Falls you should try to go, they're incredible. If you've been but never in the winter you should try to go back in the winter. It's like nothing you've ever seen before and if you are in the area it is well worth the trip.
Last weekend when I was in Toronto I took the time to drive down to Niagara Falls and see them again. I was blown away by the ice. It seems that the mist from the falls freezes on everything. There were tiny branches, less than half an inch thick, that had three or four inches of ice on them! Even the lampposts were covered.
Again I forgot my camera so these photos are from my phone, and I had the phone set to a small image size, but hopefully these photos will convince you to go see the falls in winter.